Millennial brides have new ways of getting married and are increasingly aware of the environmental footprint of their wedding on the planet. They want a sustainable wedding and a slow-fashion wedding dress. At l 'Arca, we work to offer our brides a wide selection of dresses of this type.
The slow-fashion bride looks for a new dress
In our store, you will find a curated selection of authentic vintage dresses from the 1920s and lingerie dresses that can be used as wedding dresses.
We also design and manufacture COMPLETELY in our atelier, tailor-made dresses from authentic vintage fabrics. Finally, for brides who want a brand new dress, we are committed to offer a model made with sustainable materials in each collection.
Once you have decided on the dress, you can try our antique veils and mantillas or a vintage headdress to complement your look. They are antique or made with antique Brussels lace, needlepoint or Granada lace.
For us, there is no such thing as a 100% sustainable dress. At l'Arca we understand SUSTAINABILITY as a PATH, which we have been building from the conviction that a model of production that is friendlier to the environment and the local economy is possible. We set ourselves a new challenge every year that we know we will be able to meet.
Dressmaking of slow wedding dresses

In our atelier located in the Gothic Quarter of Barcelona, we have a team of local women that
elaborates all the stages of the dress. In the design we apply a Zero Waste Philosophy: we take care of the composition of patterns to make the most of the fabric. This way we have less fabric waste and less energy expenditure.
The leftovers are sold in our vintage lace haberdashery and are also used by brides and other artisans for their sustainable fashion or lingerie creations. Some are used to make lace veils and lace bridal gloves.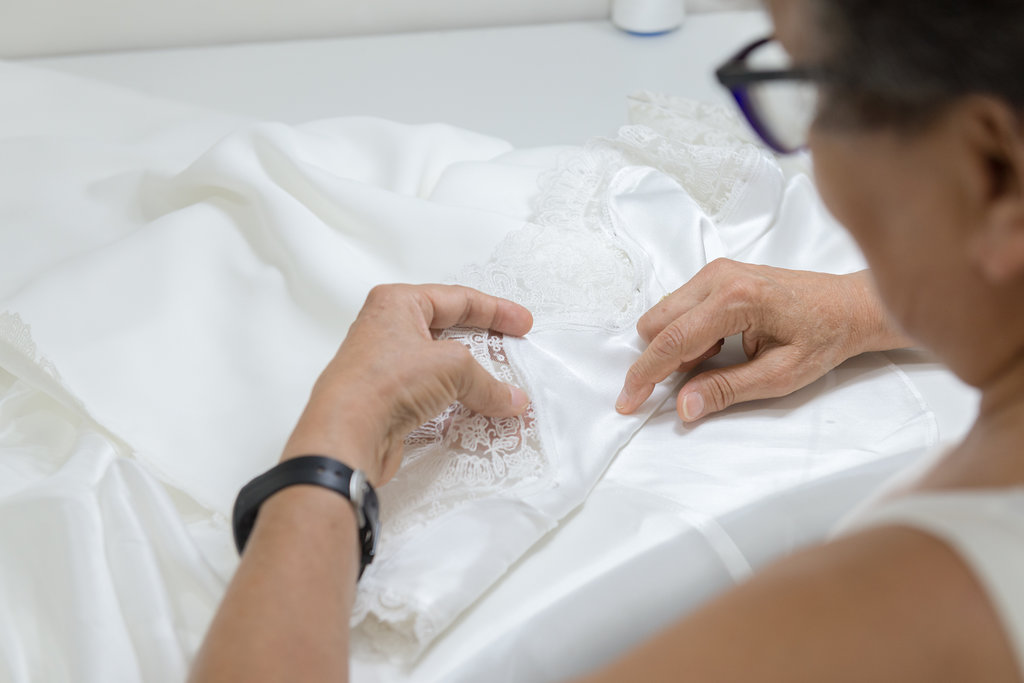 All production is done in our Barcelona workshop and our seamstresses work in a safe, healthy environment and earn decent wages.

Low environmental impact fabrics
To make our garments we use recycled fabrics and old lace. We recover impressive embroidery from pieces from the 20s and 30s and use them to make new dresses.
When we choose new fabrics, we work, as far as possible, with natural fabrics with LOW ENVIRONMENTAL IMPACT such as silk, bamboo or linen. We try to buy fabrics from local Spanish or European suppliers, minimizing the use of synthetic fibers and chemical dyes as much as possible.
The bridal lace is dyed to the right shade with natural dyes from the Camale-on company, suitable for all skin types and free of chemicals.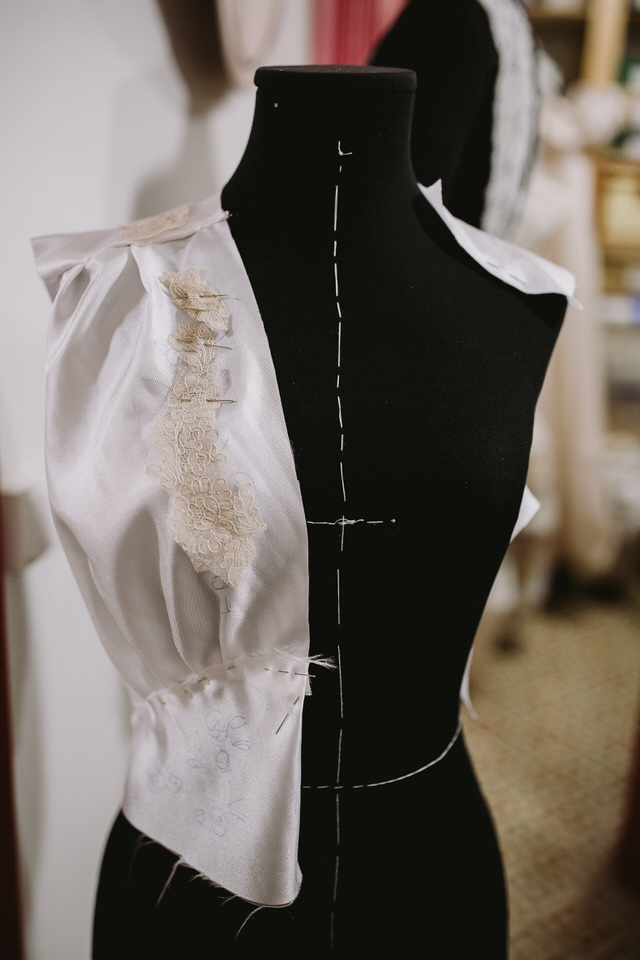 Recovering artisan techniques and sustainable lace
In our atelier, we preserve disappearing sewing techniques. We also contribute to workshops of recognized community artisans. We are in love with the technique of hand-made lace lining, in the purest lingerie tradition.
We work with embroiderers who work with hand embroidery, always very present in the world of the bride, as is the chain stitch embroidery of Cornely type. We collaborate in the preservation of these handicrafts, which are closely linked to the local area and whose workshops we love to visit.
We select laces from the mediterranean tradition, collaborating to make them last in time. These are laces with Denomination of Origin (D:O): French and Spanish laces, such as the bobbin lace from Camariñas and the Ret-fi from Arenys de Mar. Fusing tradition with current fashion trends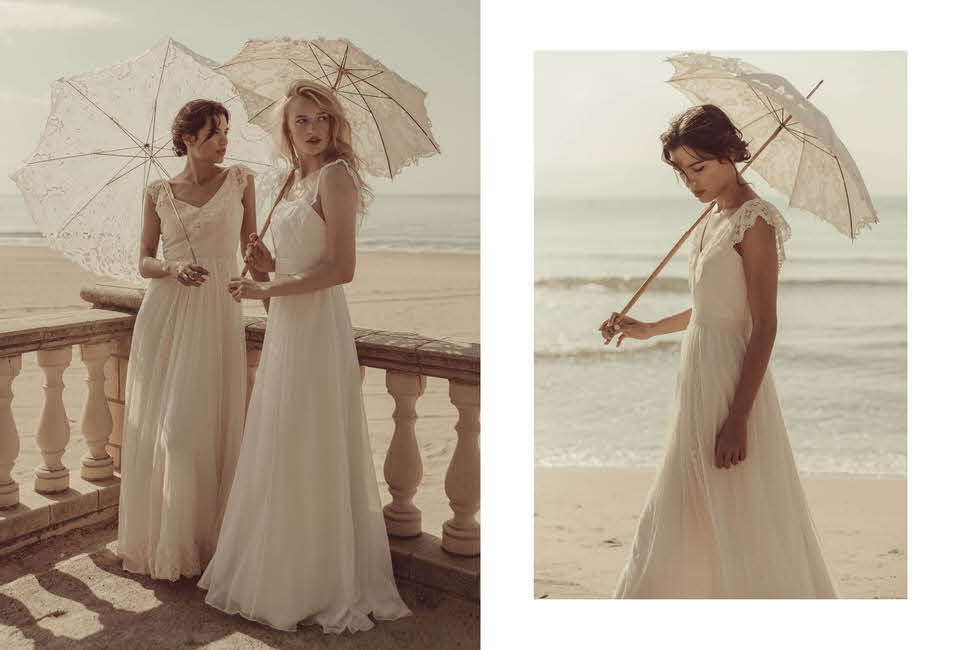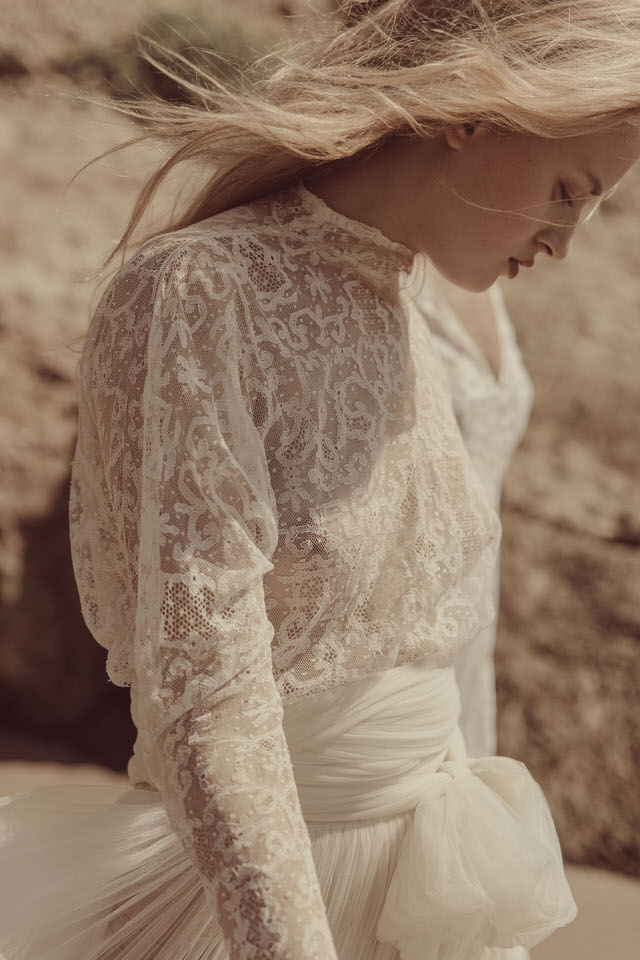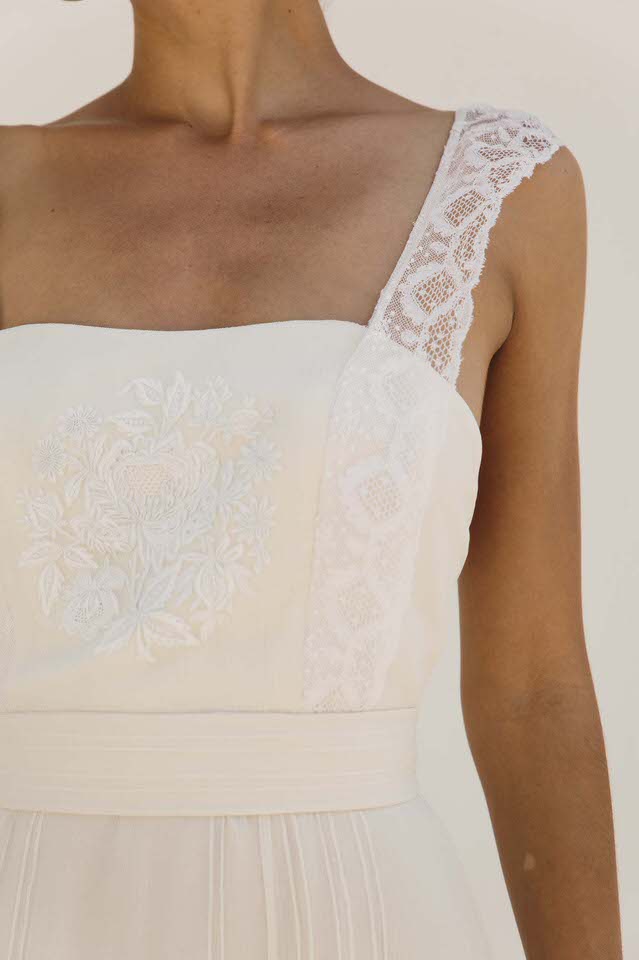 Sustainable local suppliers
We work hand in hand with new artisans who share our same values and create their pieces locally and with a lot of love. For the orange blossom headdresses, we recover the traditional wax casting technique
We craft custom fans with old lace and collaborate with workshops in Valencia that have worked with wood and mother-of-pearl for generations, contributing to the dynamism of local companies.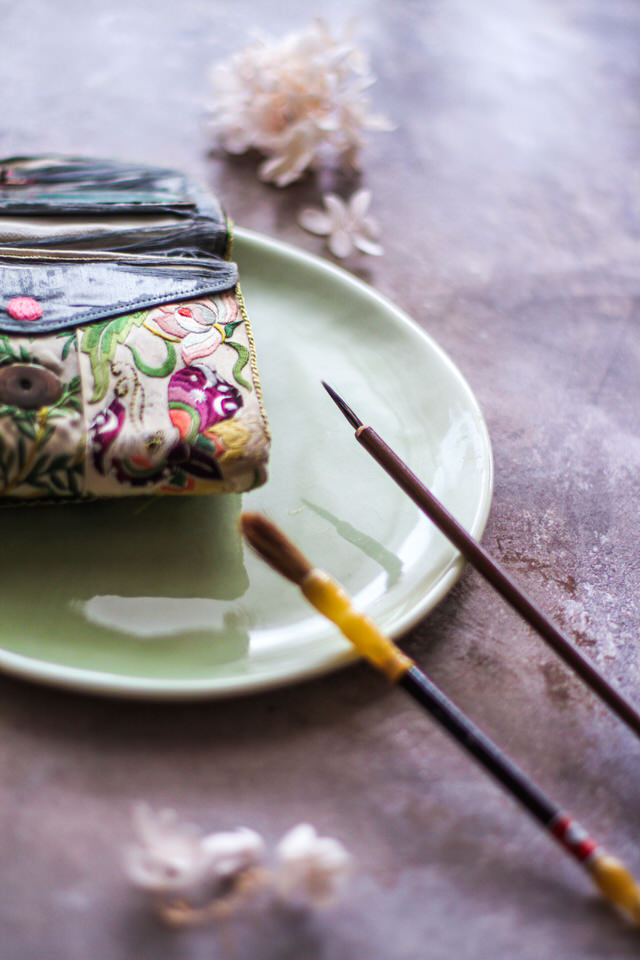 We give a new life to your wedding dress
We give you the opportunity, once you are married, to DYE the colored wedding dress with NATURAL DYES and seasonal colors, so that it can be worn as a summer dress.
In L'Arca, we collaborate with the firm Camaleón that offers a specific service to dye bridal dresses, with dyes made with ingredients directly from nature, such as seeds, leaves and plants. If you bring us your bridal petticoat, we will turn it into a beautiful summer lingerie skirt