Do you want to get married in a 1920s wedding dress? Are you in love with Downtown Abbey? If you are a fan of the famous series and would have wanted to live in those crazy years, this inspiration guide will help you reinterpret the 1920s style in a current key and find your perfect vintage wedding dress.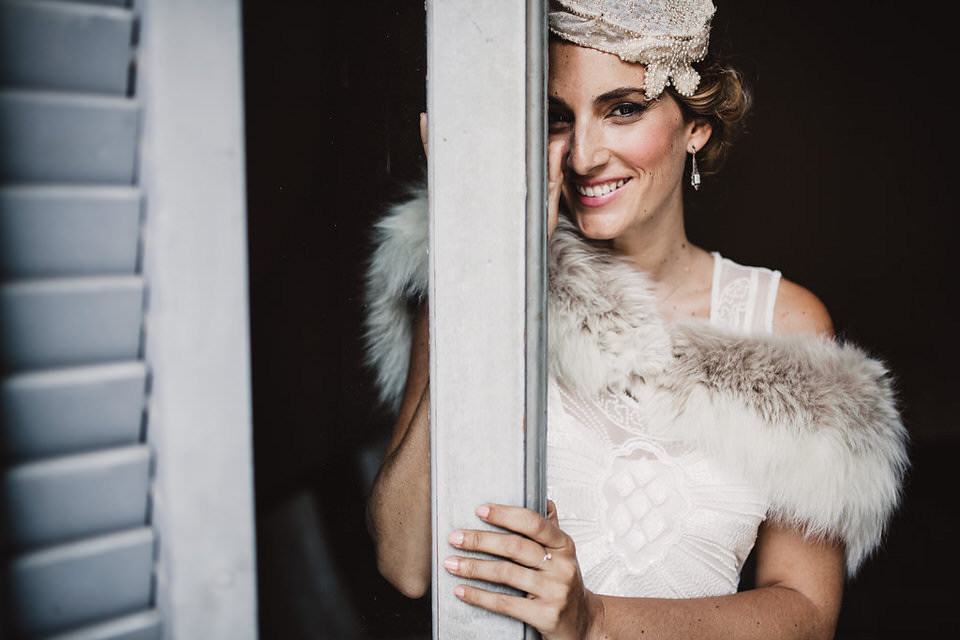 More and more brides are looking for a 20s "Downtown Abbey" wedding dress and a flowing vintage look, but they fear feeling overdressed if they choose a period styling. Keep reading and we give you the keys to get your look right.
WHAT IS A 20s WEDDING DRESS?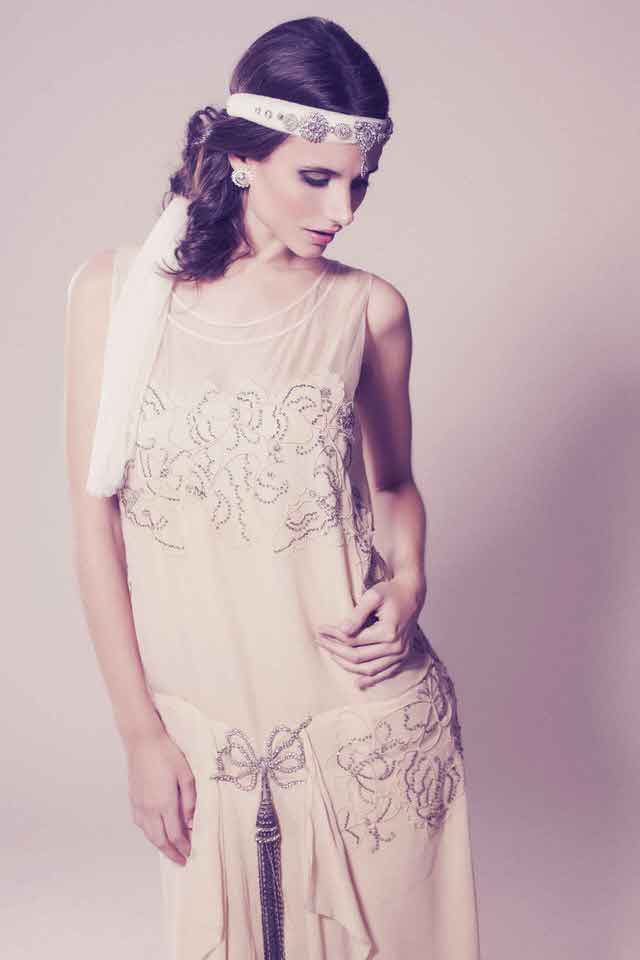 But you will ask yourself: WHAT WERE THE 20S STYLE BRIDAL SUITS LIKE?
It is a straight cut suit, made with flowing fabrics that do not hug the body, generally cut to the hips.
The bias cut and V-necklines are also very characteristic of this style. In addition, nothing represents the spirit of the 20s better than fringes and rhinestones, which accentuate the sensuality of the bride and will add movement to dancing.
If you are a "bride to be" and a lover of vintage style, hera are the differences in available options:
TYPES OF WEDDING DRESS YEARS 20
Where to begin? Before you start looking, be clear that there are three options for a Gatsby-style wedding dress:
1.- A good reproduction of a 1920s wedding dress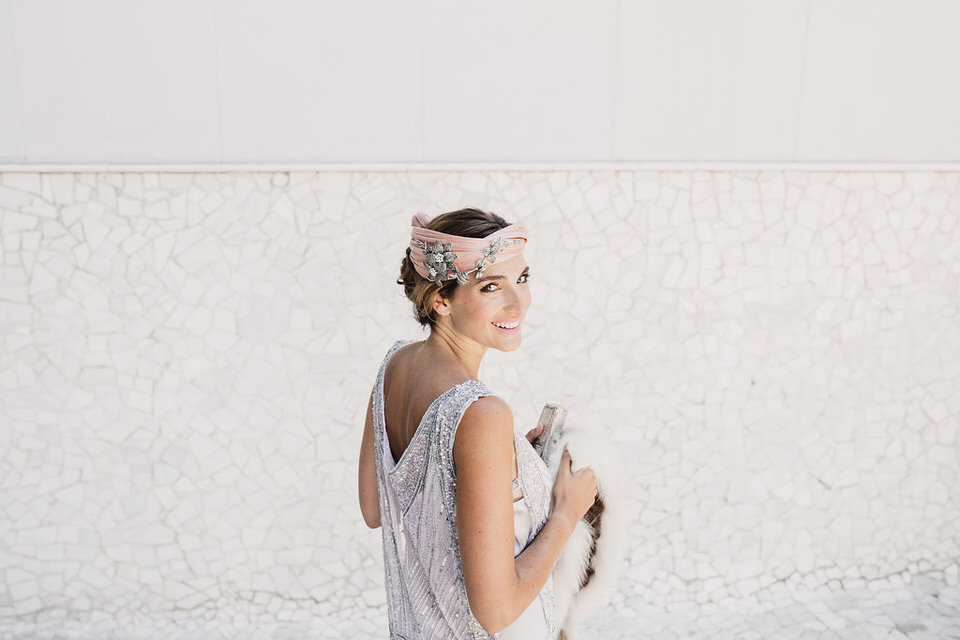 This type of dress is related to a cabaret or "Gran Gatsby" aesthetic. They usually have rhinestones, beads, appliques or fringes of the "art-deco" type. It is ideal to feel elegant in a casual civil wedding and is the best option for a silver wedding or a second nuptials. It is the best option if you have decided to organize a wedding with a 1920s theme and your guests also have to wear Gatsby style dresses.
Ivory and pastel or powder tones are the best for these brides. Both feathers and pearls are vey fashionable this year. Our advice is to look for a good reproduction made with quality fabrics and good rhinestones, that does not shine much and is well embroidered, to avoid unpleasant surprises.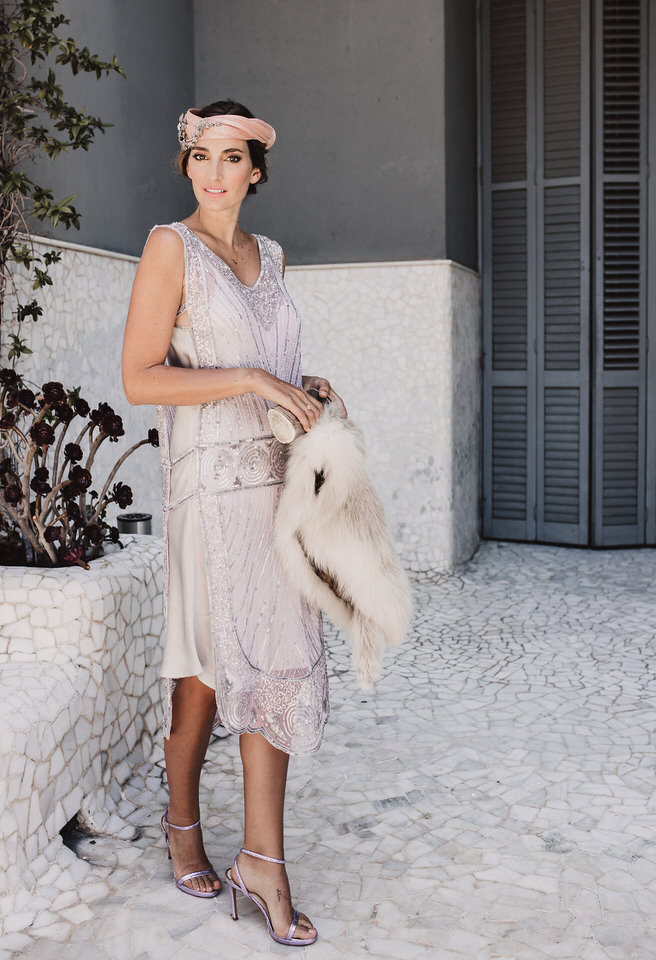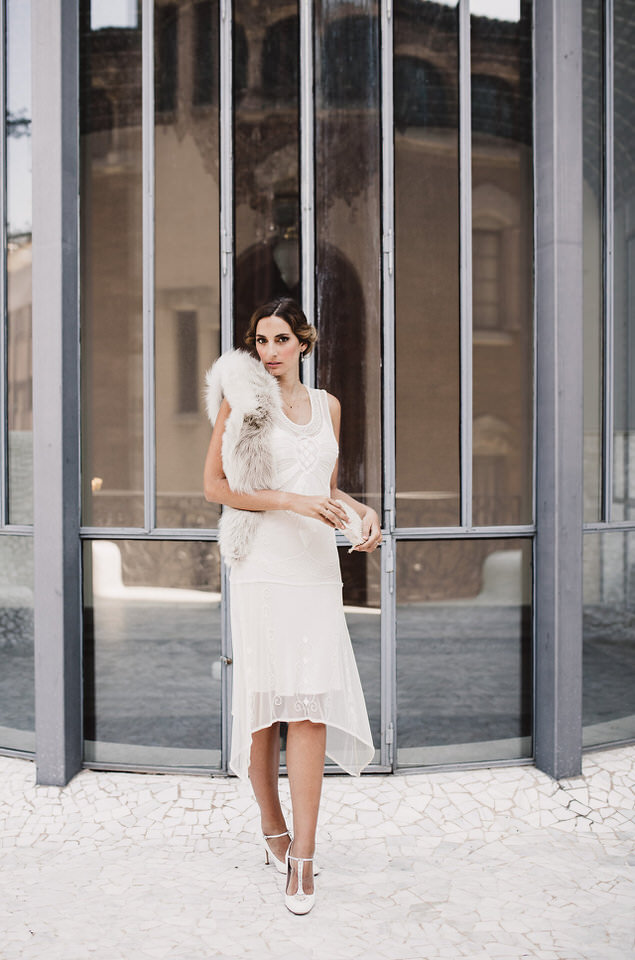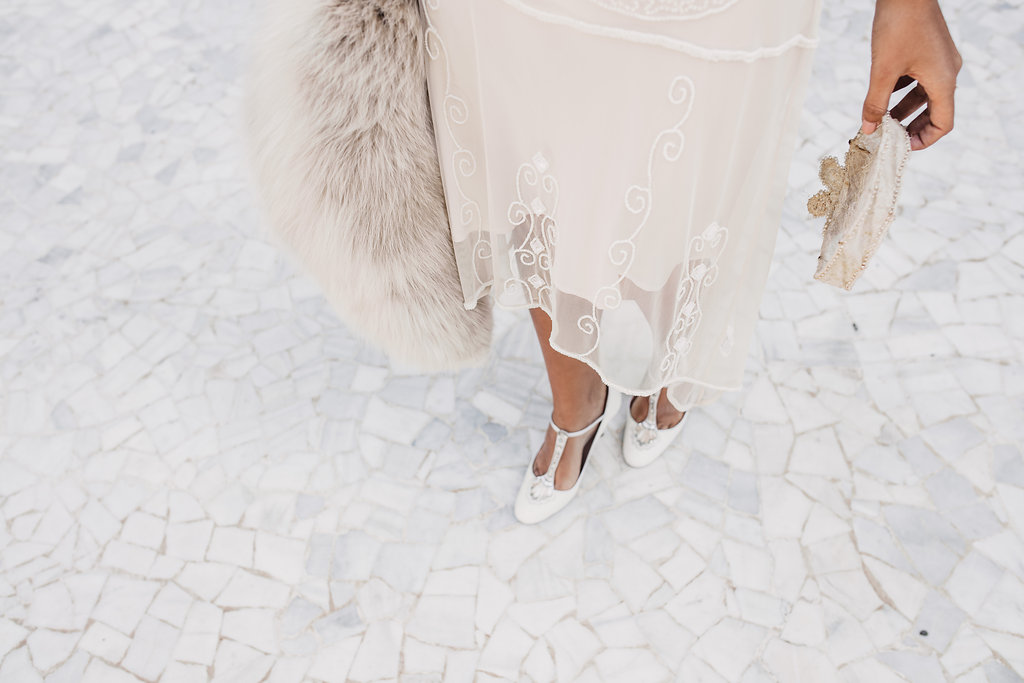 2.- A wedding dress with a 1920s flair
If you don't want an exact recreation of the art-deco look, and you're afraid of feeling as if you were wearing a costume, you can opt for a modern dress that has a 1920s FLAIR. The rebellious and carefree spirit of flapper girls can be achieved with the cut and textures of the dresses of that period. The bias or flared cuts, and the fluidity and texture of silks, satins and velvets, are ideal to achieve this look in some models from the Belvedere and Bohème collections.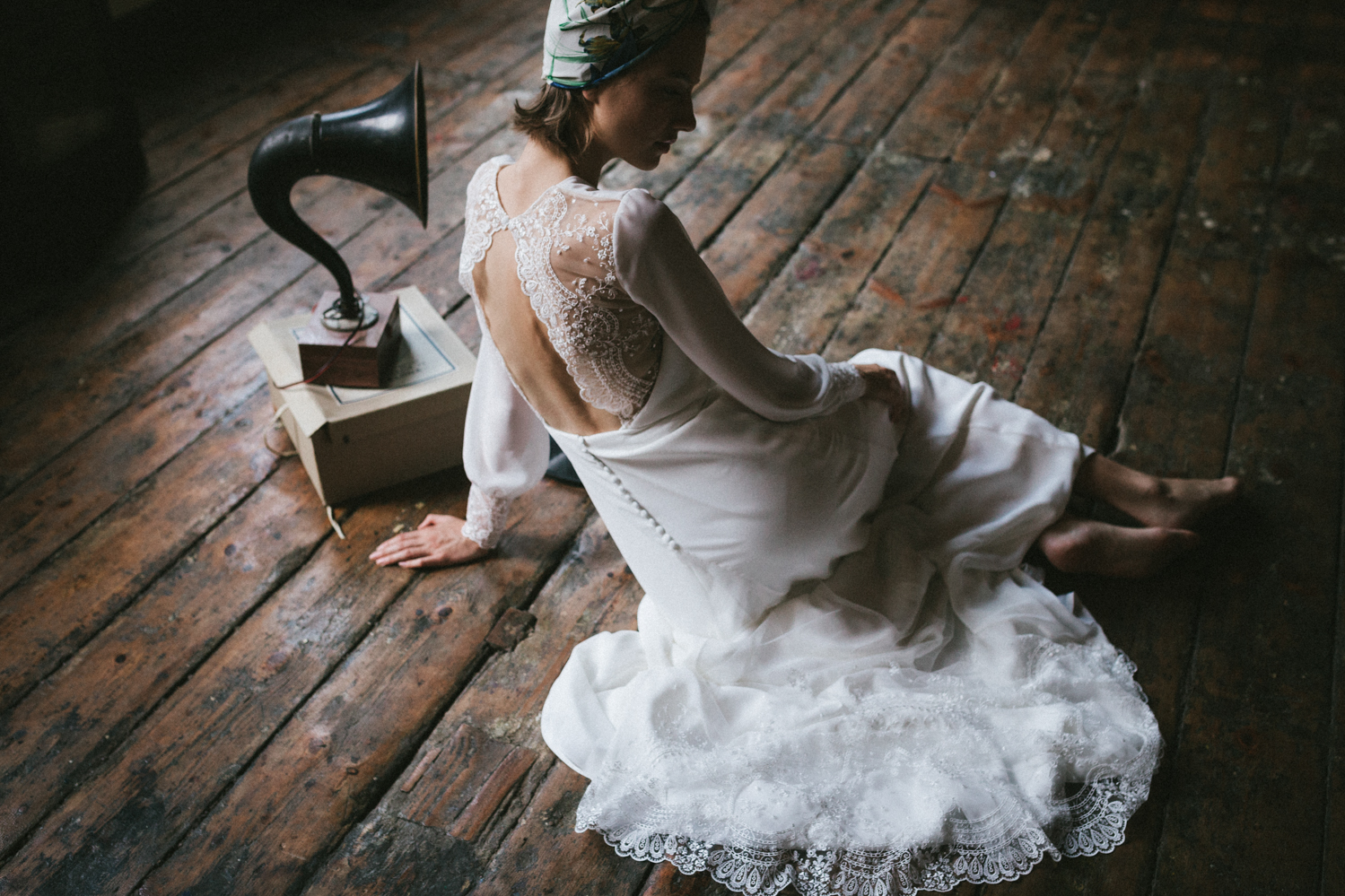 The jumpsuits or «jump-suits» that were a true revolution in the mid1920s are a very comfortable and sophisticated option, ideal for an urban civil wedding.
At L'Arca Barcelona we also custom-make personalized wedding dresses, with original vintage lace from the 1920s, a good option for a bride looking for a more sustainable wedding.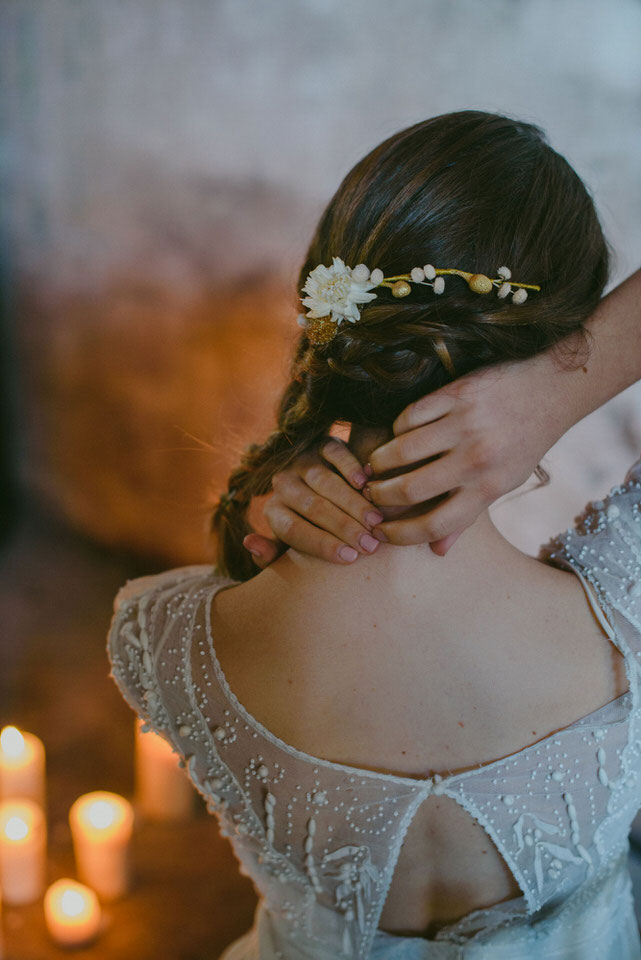 3.- An authentic 1920s wedding dress versus a reproduction dress.
Many brides dream of getting married in an authentic 1920s dress or in a vintage wedding dress. If you did not keep one of your grandmother's dresses, you can find one made in that era in specialized stores, antique dealers or online. You should be aware that they will be old party dresses since brides in 1920s Spain married in black and with a rather sober outfit. It is increasingly difficult to find a true flapper or Charleston dress in good condition, and it is likely to weigh a lot due to the type of rhinestones that were worn at the time. In any case, don't forget the basic rules about buying vintage clothing. Keep an eye on the condition of the clothes and discard those that present tears or sweat stains.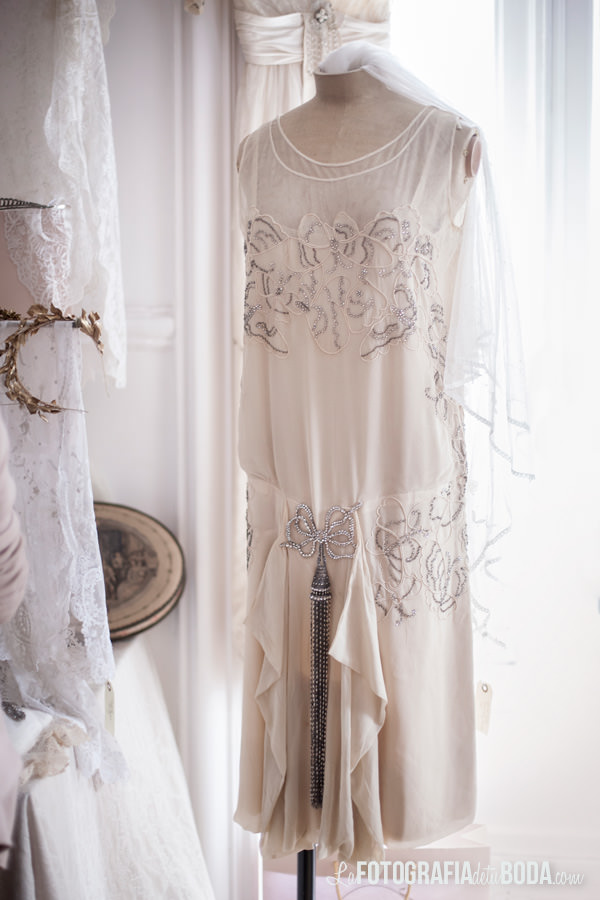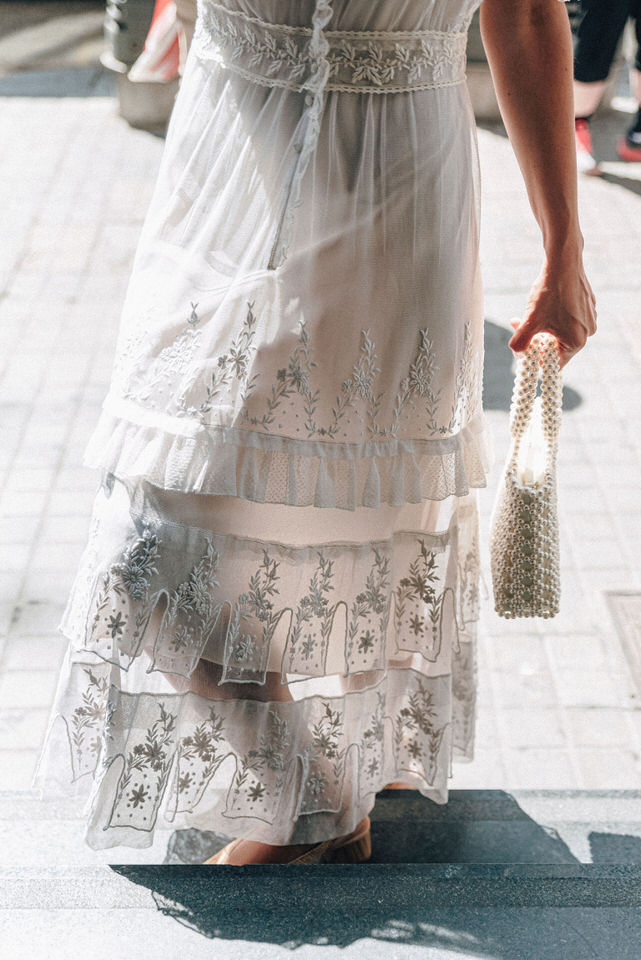 COMPLEMENTING A 20s WEDDING DRESS FROM HEAD TO TOE
How to wear a veil?
To complement the bridal look, a long veil or a mantilla placed in the pirate style or "Juliet cap" will be an ideal complement. Laura Ponte, one of the iconic Spanish brides, wore an antique lace mantilla with an art-deco inspired dress by Miguel Palacio. The model Kate Moss with her Juliet Cap veil over loose hair, also set a trend.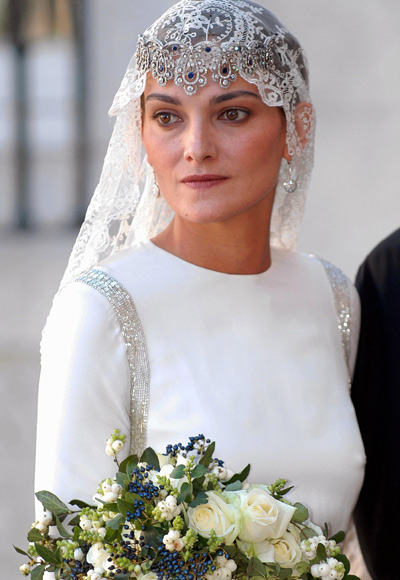 The veil can be a mantille or embroidered tulle decorated with rhinestones or pearls, it must be glued to the forehead, with loose flowing hair or with a low but firm bun.
"A woman should be two things: elegant and fabulous."
Coco Chanel
Headdresses to sublimate the look
If you do not want to wear a veil and opt for a headdress, there are a number of options. Ribbons were one of the most popular accessories on the bob hairstyle, or half mane, thanks to the influence of Charleston music and jazz. They may have rhinestones, or feathers if you are looking for a more daring effect.
Another trend of the 20s are headbands. They can be found in a thousand different styles, with rhinestones, feathers or "jewelry headbands". They are the perfect touch for any hair style, regardless of the cut or hair length. The turban is also a good option, for a non-religious wedding look.
Jewels for a perfect flapper bride
In the 1920s, jewelry became a very important part of clothing. They generally consisted of silver Art Deco jewelry, with a geometric cut. Brooches, bracelets and headbands are key. The brooch was placed in strategic places to hold the ornaments. Double strand pearl necklaces always work to add a finishing touch to styling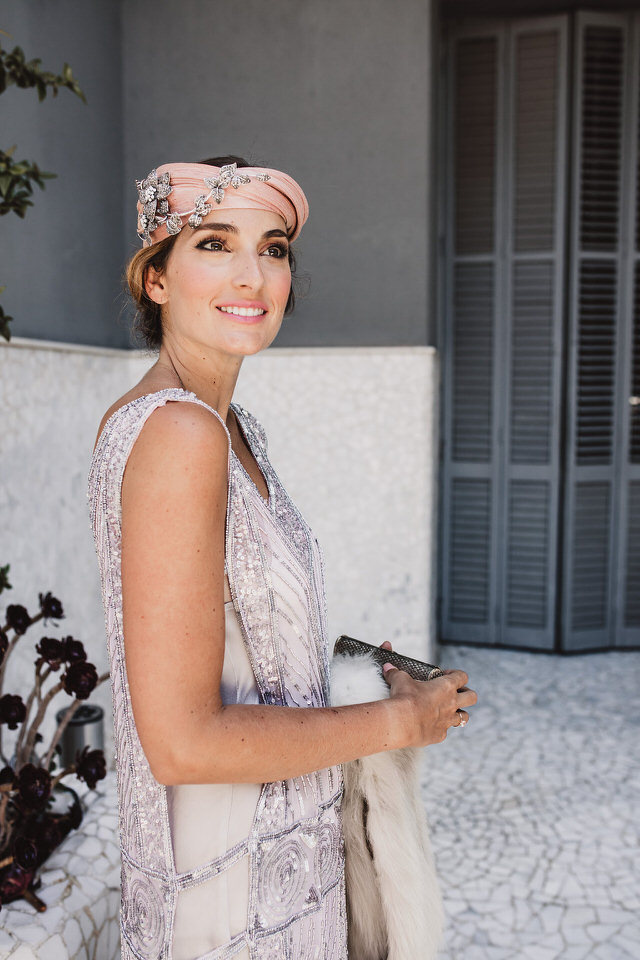 The ideal footwear for a Gatsby style dress
You have to consider styling from head to toe. To dance and be comfortable on your wedding day, you can wear shoes such as "Mary Jane" or "Merceditas", which are back in fashion. For a more glamorous look, ankle-strap mid-heeled shoes like Rachel Simpson's may provide a final touch to your look.
Fur stoles, or stoles made of synthetic fur or feathers, for environmentconscious brides, are a great way to make a triumphal entry, while protecting you from the cold.
The flapper bride makeup
Aesthetics, makeup and hair reinterpreted in a current key are as important as clothing and accessories.
It would pointless (and dangerous) to make your skin pale with talcum powder as was done the 20s and. Do use a very soft base, or a nude tone, in order to highlight red or plum lips. Long eyelashes accentuated by a well-defined eyeliner on the mobile eyelid, or a "smokey eye" effect if you dare. There are professionals who offer special sessions for this type of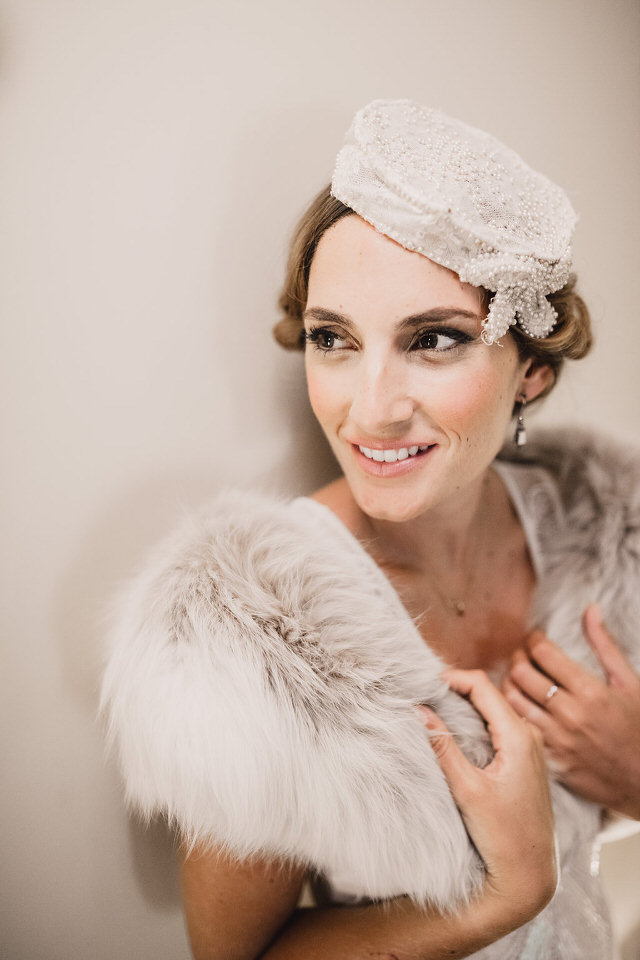 The ideal flapper-inspired hair is the medium-lenghth mane with marked waves and a front headband with rhinestones. If you have long hair, it is not difficult to make a bob hairstyle, camouflaging your hair. Waves were the preferred 20s hairstyle, but you have to watch because it does not favor everyone and can be excessive. In 2020, it will be 100 years of that decade: an ideal time to pay tribute to the "roaring 20s." L'Arca is waiting for you to join.